I am thrilled and proud to announce that His Stolen Bride is a finalist for Best Long Historical Romance of 1999 in the Romance Writers of America's prestigious RITA Awards.

Tucked away in the rolling hills of Piedmont North Carolina is our farm Cat Crossing. There I'm blessed with timeless sights that inspire and inform my stories set in our American past.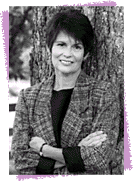 In the mornings as I walk to my office in the barn, a pair of nesting red-tailed hawks loft in the sky.

In the afternoons, deer amble up to feed on clover in the horses' pasture. A ten-point buck clears the gate into the paddock. An albino doe stuns me speechless.

At twilight two elegant blue herons cruise overhead on their way to a neighboring farmer's pond. I've seen bobcats and wild turkeys and heard sly, shy foxes calling to their cubs at night.

And everywhere, there are the cats... ten of them, once lost, neglected or abandoned, now fat and secure of their place in the world. As often as not, one of them is on my lap, trying to help me write the next scene of my next book...


Click on the cat from any place on this site to return to this page!

Contents copyright © 2000-2017 by Judith Stanton. All rights reserved.