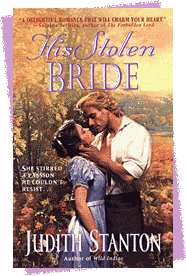 Now In Stores!

Read one of my favorite passages from His Stolen Bride. Nicholas Blum grew up to be a charmer who makes me laugh and a lover who takes my breath away!


How does a Single Brother secure the bride of his heart when it's not his choice to make?

How does a Single Sister resist a charmer like Brother Nicholas Blum when she's pledged her life to duty?
Restless charmer Nicholas Blum, Jacob's oldest son, wants nothing more than to marry the secret sweetheart of his youth. But the village Elders won't let him marry, period; Moravian men must be established before they can wed. He's failed in four trades so far, so they send him away to learn a new one--as a merchant's assistant.

There, Nicholas is plagued by tiny Abbigail Till, a smart, self-confident taskmaster and the merchant's spinster daughter. But sparks fly in all directions after the Elders pick Nicholas's younger brother to marry the woman he left behind.

What's a man to do? Nicholas hurries home, leaving Abbigail to deal with a theft in the store--and the theft of her own heart...

Find out for yourself what romance reviewers across the country are saying about His Stolen Bride.

Home

Wild Indigo

About Judith

Questions

Contact

Writing with Style

Events

Cat Crossing
Contents copyright © 2000-2013 by Judith Stanton. All rights reserved.